About Final Fantasy XIV: Stormblood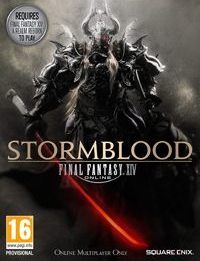 Final Fantasy XIV: Stormblood for PC and PS4 is the second expansion to Final Fantasy XIV: A Realm Reborn, an MMORPG developed by Square Enix. The expansion is an important chapter in the history of Final Fantasy XIV, which, after three years from the unsuccessful launch in 2010, was given a second chance when the developers, lead by Noaki Yoshida, rebuilt the game from scratch and re-released it as Final Fantasy XIV: A Realm Reborn. Stormblood also definitely ends the support for the game on PlayStation 3.
Plot
Final Fantasy XIV: Stormblood for PC and PS4 continues the story from the base game, offering numerous new quests and cutscenes. This time, the players will journey to the lands beyond Eorza, exploring new parts of the game's world and entering the areas occupied by the Garlean Empire.
Mechanics
Final Fantasy XIV: Stormblood for PC and PS4 introduces many new features, new locations being the biggest ones. We can visit Ala Mhigo and join the resistance in their fight against the Empire. We will also explore Othard, a continent in the Far East, where lies the kingdom of Doma, inspired by Japaneese culture and architecture. Moreover, Stormblood introduces numerous new dungeons, special events, and raids (i.e. the 24-person Return to Ivalice, written by Yasumi Matsuno, creator of Final Fantasy XII, Final Fantasy Tactics, and Vargant Story).
But perhaps the most important element that comes with Stormblood are the two new classes. Red Mage uses rapiers, aids himself with various spells that strengthen his or hers attacks. Samurai uses giant katanas that can store energy, which can be released when attacking. Additionally, the expansion increases the level cap to 70, and every class received completely new skills and abilities. Players will also find (and craft) new, powerful equipment.